Resilience in the Face of Adversity
Monday, May 12, 2014 - 5:30 PM
Written By: Shelby Dawn
EDMONTON, AB, CA- May 12th, 2014-- This past Saturday marked the debut of the Harley Davidson of Edmonton, KidSport Edmonton "So ALL Kids Can Play" , number 19, 360 Sprint Car. The night was full of unexpected issues for the team but they were able to overcome the difficulties, put the knowledge they gained to use and bring the car home for a 4th place finish.
This was TJ's first run with the team's new Custom Automotive Specialties, 360 motor. In TJ's words, "Roger put a really great piece together for me and I can tell that it is going to be really reliable. There are still a few things to work on but nothing of concern."

Photo courtesy of John Mattie- https://www.facebook.com/john.mattie.773
TJ showing off his new Horsepower.
About two laps into the main event, running 3rd, steering became incredibly difficult for TJ. Knowing that it was not something major, TJ stayed out until a yellow flag was flown and took the opportunity to head for the pits. He was able to point Scotty and Doug to the problem and make it back out on the track before the two caution laps were up. By the time the checkered flag flew, TJ had fought his way back up to 4th place.

Photo courtesy of Lisa Davies aka "Pit Mom"
TJ, Doug and Scotty working hard.
The team fought inconsistency with the car for the majority of the night. For TJ, the motor, as well as the Capital Gear Motorsports Car, were completely new. The team ran a set up similar to what they ran at the end of the season last year and it was something that did not suit the car well. However, through troubleshooting and perseverance, they were able to make some helpful changes in the setup and TJ feels confident as the team prepares to head to Montana early Thursday morning. "Knowing that we can fight back the way that we did, while having many problems just shows how well this team is able to work together," the 22 year old continues, "coming out of the gate with a new motor and applying everything we learned this weekend, we have every intention of heading to Montana and bringing home a win." TJ has visited Electric City Speedway in Great Falls, Montana a few times before and is eager to get down there once again.

Photo courtesy of STPRacing Memories- https://www.facebook.com/stpracing.memories
The team in the background working, pit mom doing what pit mom does.
A huge thank you is in order for Syd and John of the Decal Shop. They printed all of the stickers for the car and helped to really make it look sharp for its first trip to the track this year. Thanks also to Scotty and Doug who spent countless hours painting the car and getting it all ready for this weekend. As TJ put it, "There is never a dull moment at the track, each night is fun and constructive. This team radiates positivity and it's something that I just cannot get enough of. I really want to give a shout out to everyone on Facebook and those who sent me messages on how great the car looked. Those words really mean a lot to me. It's a cool look for us and fits this whole team perfectly."
In order to stay up to date with TJ and his racing progress for the upcoming season you can:
"Like" his TJ Hartman Racing Facebook page,
"follow" him on Twitter @TJHartman19 or
"follow" him on Instagram @TJHartman19
New Year, New Outlook & New Opportunities
May 4, 2014 - TJ Hartman Racing
Written By: Shelby Dawn

With TJ's first Alberta winter coming to a close the 22 year old Puyallup, Washington native could not be more ready to get back in the seat for the upcoming 2014 race season, in fact, he's been keeping the seat quite warm for the past few weeks! Many preparations have been made through the winter so that the team will be ready to compete as the snow melts and the ground thaws.
 
After a terrible accident on the way to the races last August, which destroyed EBR motorsports race trailer, the team has acquired a new one. The Toter, which also suffered damage during the wreck, has been completely redone, pictures will be posted soon! Three cars have been prepped and are ready to keep TJ out on the track for the year!

 
The TJ Hartman Racing team has also added a Custom Automotive Specialties Motor to their ranks. This 360 machine will go in the 22 year olds #19 Maxim and he'll have his first chance to gas it up this coming weekend, May 10th, at Castrol Raceway in Edmonton, Alberta, Canada. TJ's plan is to compete for the 360 Championship at Castrol, with 9 races scheduled at the Edmonton based raceway alone. This past Thursday and Saturday, TJ got some great seat time in at Castrol in the EBR Motorsports V8 Sporty. TJ hot lapped the car into 2nd fast time last night but the event was cancelled soon after when the snow just became too much to continue. It had been 8 months since he had been behind the wheel but he says that he is feeling more confident than ever and is more than ready to start the season.
 
TJ would like to thank Scotty Evans and Lisa Davies for their kind hospitality through the winter months. As TJ puts it, "It's a huge commitment to allow someone to invade your space for a significant amount of time and I am incredibly grateful for their support." A special thanks is also in order for Matt Davies, who shared his shop with TJ so that his racing equipment would have a warm and snow free place to live for the winter.

TJ's win at Castrol last season, beside Lisa and Scotty!
 
It's with great pleasure to announce a new crew member to the team. Doug Anderson made the trek up to Edmonton a few weeks ago and has been helping TJ prep for the start of the season. TJ and Doug have been friends since they were just beginning their careers in quarter midgets. Doug is a driver himself and has 13 years of experience in running late models, legend cars, and quarter midgets. As lead wrench he plays a major role in what is happening behind the scenes for the team.


Due to a mix up of dates, TJ will not be back in Washington until June 7th when he will race at Grays Harbor Raceway in Elma, WA, with May 16th & 17th being at Electric City Speedway in Great Falls, MT.
 
June 7th marks 5 years since a wreck that took TJ out of competition for the remainder of the 2009 season. TJ suffered a concussion, destroyed his car and hurt his motor in one fatal swoop that night. For him, racing on this day once again, at the track where it took place is a very big deal. TJ is looking to have fun and is excited to be back in front of all his GHR fans!
 
TJ is very excited to have some new sponsors on board for this year. A special thanks to, Harley Davidson of Edmonton, Custom Automotive Specialties, Alberta Elevator Services, Pro-Lite Electric, Lesco Distributors and Capital Gear Motorsports, as well as our returning sponsors, Butlerbuilt, Simpson, Rod End Supply, Hooker Harness, Performance Coatings, Astro Titanium and Kinsler Fuel Injection. With a new year comes new opportunities and TJ is excited and ready to see what the season has to offer him. He has met some great people during his last 10 months in Canada and could not be more appreciative for all the friendships that he has formed and all of the support that he has been shown.
 
In order to stay up to date with TJ and his racing progress for the upcoming season you can:
"Like" his TJ Hartman Racing Facebook page,
"follow" him on Twitter @TJHartman19 or
"follow" him on Instagram @TJHartman19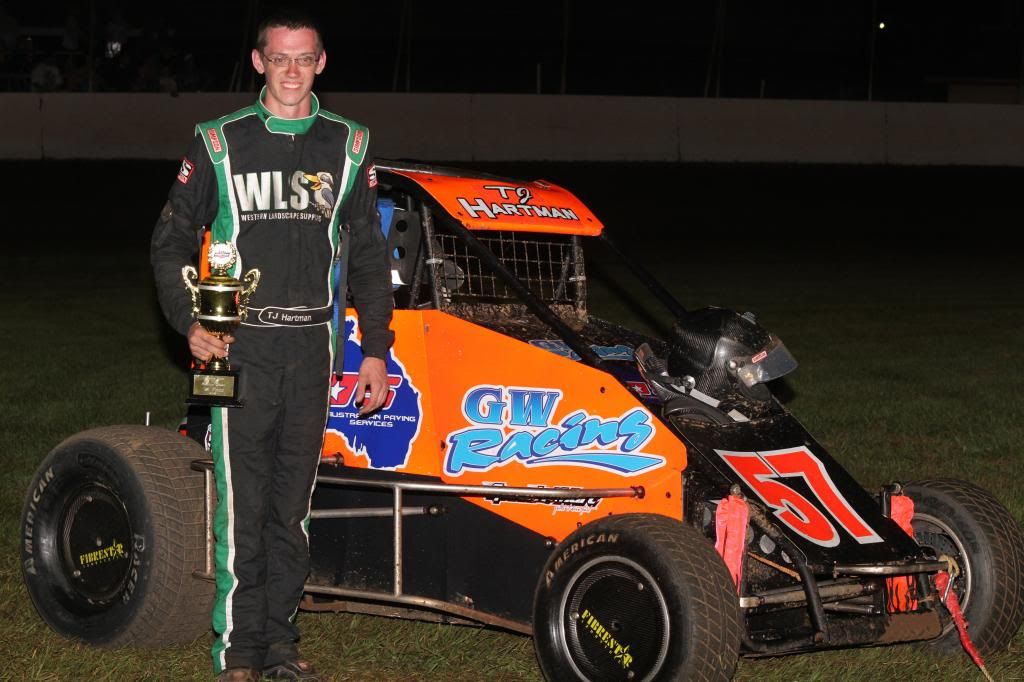 Photo - TJ finds Victory Lane at Grafton Speedway on New Years Day aboard Sid Whittakers Ti Bolts and Race Parts Q57 midget

TJ Hartman Racing PR - Season of Change!
Edmonton, AB Canada - December 30, 2013...



2013 would be dubbed the Season of Change for TJ Hartman as he traveled from one end of the World to the other in pursuit of a career in open wheel racing.  The effort paid dividends, as Hartman found victory lane for 3 of the 5 car owners, including himself.  Sweetening the pot, twice he stood atop the podium in forms of cars he had never driven, at race tracks he had never seen before.  

The success didn't come without adjustment however, as trials and tribulations forced the Puyallup WA native to make decisions on the fly.  What began as a 5 week stint in Queensland and New South Wales driving midgets for car owners Scott Wilson and Sid Whittaker, turned into a 4 month stay when car owner Brodie Tulloch made his 410 winged sprintcar available for Hartman to finish out the season in the Southern Hemisphere.  Weather hampered much of the duos effort, as did the extended time in Australia, putting a damper on any plans to run a full schedule at home in local ASCS competition.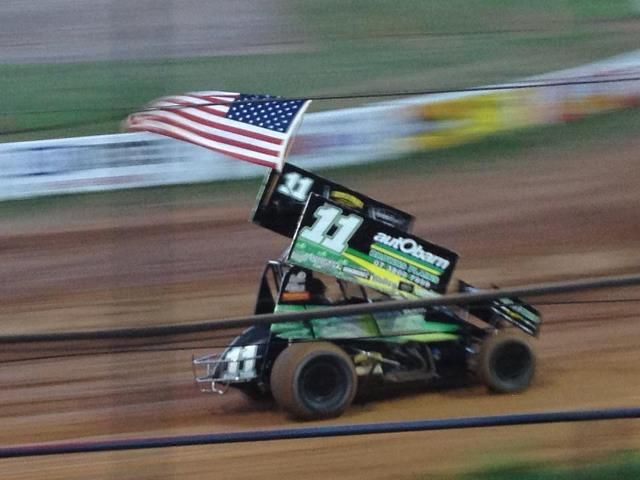 Photo - TJ flying the home colors at Archerfield Speedway in Brisbane, QLD in Brodie Tulloch's autObarn sponsored 410 sprintcar


Returning home with no certain plans for the remainder of the year, Hartman landed on American soil, but soon made the 16 hour drive North and East to Edmonton, Alberta Canada where he teamed up with EBR Motorsports and car owners Scotty Evans and Lisa Davies in their Kidsport Edmonton partnered Sportsman Sprint.  The revitalized EBR Motorsports set several goals for the team, including raising funds and awareness for Kidsport Edmonton, and challenging for Rookie of the Year in Castrol's Xtreme Sprint Cars series with 53 year old driver Ken Lett.  Hartman would fill in on off dates for the point series, and helped the team find it's first ever victory by winning at Central Alberta Raceways in Rimbey, Alberta. 

Photo - TJ and EBR Motorsports putting Kidsport Edmonton in Victory Lane

Set to drive the EBR mount in Castrol Raceways Xtreme Cup, a third place finish on the prelim night had the team excited as they prepared for the final night.  Unfortunately, while en-route to the track, they suffered a serious accident, all but destroying the EBR team hauler and contents inside.  It was a disappointment, but the team was grateful there were no injuries.

Photo - The aftermath of the crash for EBR Motorsports

Refusing to quit, and with the support of friends and family, the EBR team borrowed a trailer, tools, and the parts necessary for Lett to finish out his rookie year campaign.  Unfortunately, with just a few laps remaining in the final race of the Xtreme Sprint Car Series, the engine let go and cost Lett the ROTY award.  It was a disappointing setback to the team after leading the rookie points all season, and the trickle down effect meant that the remaining races scheduled for TJ in the V8 car had to be cancelled.

Still hungry to compete, the team turned it's attention to Hartman's own program, and set it's sights on finishing out the year strong in ASCS 360 competition at Castrol Raceways final race of the year.  With Custom Automotive Specialties engine power under the hood, and sporting EBR Motorsports colors with Kidsport Edmonton, TJ would finish out the year just as it began - parked in victory lane.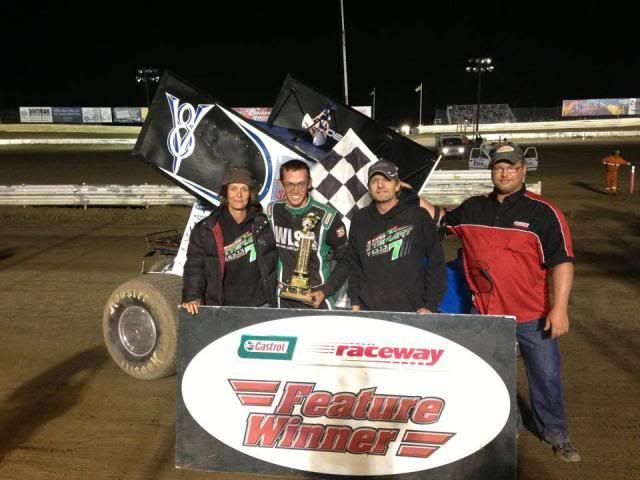 Photo - TJ, Scotty, & Lisa atop the podium with the ASCS 360 sprintcar at Castrol Raceway

While it may have looked easy, the adversity overcame to accomplish winning multiple races in 3 countries in 3 separate divisions, is the real measure of achievement.  Ringing in the New Year with a win in Grafton New South Wales, and finishing out the season a little farther North with a win in Edmonton Alberta, TJ showed he's not afraid of a challenge, and eager to adapt to change.  It always helps to be aligned with strong and dedicated people, and that's just what he found with car owners Scott Wilson, Sid Whittaker, Brodie Tulloch, Scotty Evans & Lisa Davies, and himself.  If 2013 is any indication, 2014 looks to be even better.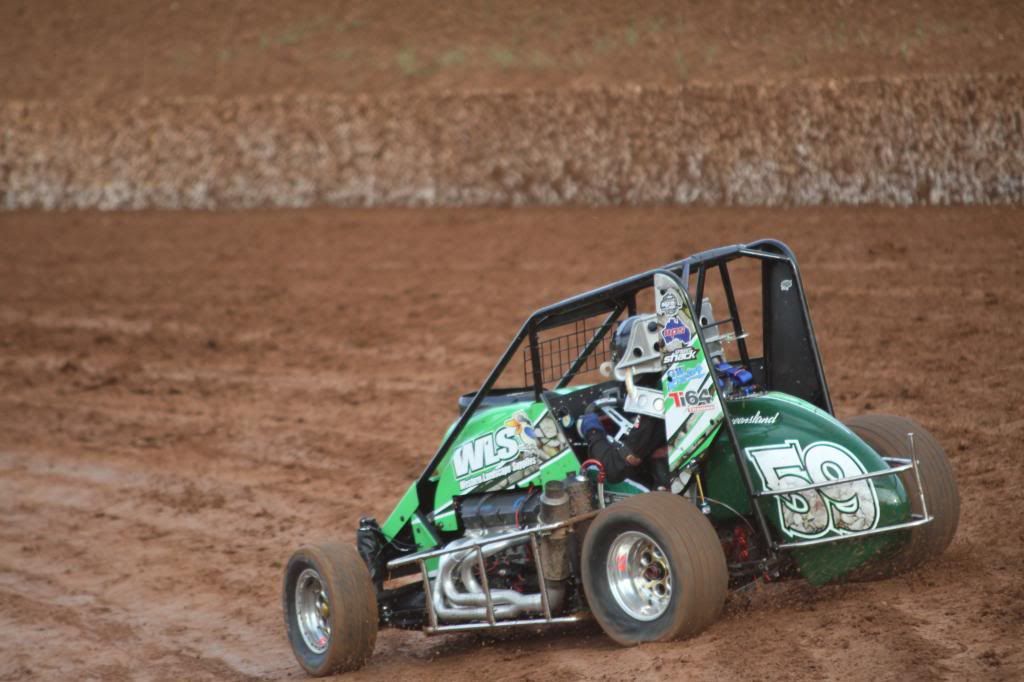 Photo - TJ makes his midget debut at Archerfield Speedway aboard Scott Wilson's Western Landscape Supplies Q59

2013 Season Stats - 

Classes: 4 (Midget, 410 winged sprintcar, ASCS360 winged sprintcar, 360 winged limited sprint)
Starts: 12
A-Feature Starts: 10
Wins: Grafton Speedway(midget), Central Alberta Raceway(sportsman sprint), Castrol Raceways(ASCS 360)
Top 5's: 5
Continents: 2 (North America, Australia)
Countries: 3 (USA, Australia, Canada)
States/Provinces: 5 (Washington, Montana, Queensland, New South Wales, Alberta)
Miles Traveled: 20,000+
In TJ's words: "I am very thankful to the people who gave me the opportunities this year.  We're working hard to keep the momentum and make 2014 a successful year as well.  Teaming up with sponsors like Harley-Davidson® of Edmonton will make next season very exciting for everyone!
Be sure to check out the season recap video put together to show our appreciation to all of the sponsors and friends who make it possible to have a shot at the stars.  From TJ Hartman Racing - thank you and we wish you all a Happy & Prosperous New Year!  2013 Season Recap Video
Stay up to date on what's going on with TJ and the EBR Motorsports teams by following along on twitter at @tjhartman19, on TJ's web site at tjhartmanracing.com, or on the teams Facebook pages; Facebook.com/tjhartmanracing and Facebook.com/ebrmotorsportsVIII
TJ Hartman Racing
www.TJHartmanRacing.com