Driving a racecar in Australia…out of all the racecar drivers in this world, not very many can say they visited Australia, let alone turn laps at places like John Kelly's Archerfield Speedway and Dave Lander's Lismore Speedway. I had a rare opportunity, maybe one that comes once in a lifetime, so I had to take it.
Hearing the words from Sid asking if I would like to come to Australia and drive a midget, was like nothing I ever felt before. I had already visited Australia once before, thanks to a very good friend of mine, Dale Grotherr. But to actually be driving a racecar this time…I was so excited.
I had met Sid and his wife Lisa two years ago when I visited the land Down Under. I went on a trip with them to Maryborough Speedway for the Queensland Speedcar/Midget Title. Like Dale, they had opened their home and gave me food and a place to eat/sleep and shower. This time, however, they would have to do it for 2 whole months. Sid and Lisa are just plain awesome people. Simple as that. To treat me like I was part of family, spending Christmas with them, and having all of the laughs and jokes each day was going to make for such great memories…
Memories and friendships that will last a lifetime. My trip was extended just before I was about to head for home on the 6th of February. To drive a 410 sprint car for Brodie Tulloch was going to be another experience added to this trip, and my own racing career. Brodie had done the same as Dale and Sid…he took care of me, and made sure I was able to eat, even if it was cereal for some weeks…I didn't care. I would eat anything and sleep anywhere to be able to have the opportunity that I was given. My trip at this point had no schedule return date, and with my Visa good until the end of their season…it was quite possibly the plan.
The weather in the Sunshine State was not at all sunny. Pretty much all of February rained out and most of March. Only being able to get one run in Brodie's sprint car was a bummer, but nonetheless I think I learned a lot from him.
It's hard to express how thankful I am to these friends I have made. It really starts with Dale Grotherr…who knew that racing on a video game on the internet would lead to spending a couple months visiting Australia 2 years ago. Dale, I want to thank you again for your time and effort that you have given me. I am not sure this experience would have turned out the same if it wasn't for you.
Sid and Lisa Whittaker…if I could have favorites, you and your family would be it. The whole Whittaker family…from June and Rob, Rusty, Mitchell, Taylor and Courtney…all of you made me feel at home. One of these days when you guys visit our land, I hope I can provide half as much generosity to you. We don't have any Vegemite here…but we have tons of Peanut Butter…so we can have Peanut Butter toast all day long! :)
I had met Scott Wilson when I was up at Maryborough with Sid. He was driving a Litre Sprint (similar to our Mini Sprints here). I would have never guessed that I would have the opportunity to drive your midget. It's such a beautiful car…you have done very well at catching the eye of people. All of the fans that I talked to loved seeing it on the track and wanted to know when it was racing next. It is tough to grasp how much engine troubles we had, but that stuff can always be worked out. I want to see that thing up front next season because I know it's capable of winning races!
My new best friend…Brodie Tulloch. I don't even know where to start…from making both of us hot chips or trying to figure out why the washing machine turns on at 5:30 in the morning…I could not have had a better trip without meeting you. (and btw…for the people reading…the washing machine turns on at 5:30 in the morning because Brodie's cat Baloo likes to drink the water out of it…the jokes around were to throw our laundry in at night and it would be done by the time we got up in the morning!) I really feel like I have a lot of similarities with you in regard to racing. We both do this on a low budget, but try to make the most of what we do. You run a very professional race team and I was glad to be a part of it. I think your favorite line was, "Hey mate…I have a job for you." I would come back and do all those jobs again…I learned a lot from you and want to thank you so much for the opportunity of not only driving a racecar, but the experience of living in Australia…
There are others who supported me and helped me while I was down there. Scott Wilson of Western Landscape Supplies, Gavin Fletcher of Gav's Engines, Jamie Pearce of Fusion Graphix, Joel Thomas of J&M Racecraft, Dale from Sprintcars Online, and Col Davies who helped a great deal on Sid's team. Each of you I consider a friend and cannot thank you enough for the effort and support that you have given me.
Many of us know how much behind the scenes involvement it takes from sponsors to get racecars on the track. For the Q57, Q58, and Q59, Australian Paving Services, Ti Bolts & Race Partz, GW Racing, The Sprint Shack, and Western Landscape Supplies are what made that happen! I wish good luck to all of those companies and I hope you continue the support to those three cars!
The B&D Racing #11 410 sprint car also has some great supporters. Autobarn Browns Plains (Rob, it was great meeting you, good luck with your new baby!), Dog Tyred Kallangur (I won an awesome prize from Dog Tyred, so thank you!), Penrite Oils, Home Pride Industries, Brodestar Designs, Eagle Motorsports, and QLD Speedway Spares. I also want to thank Scott Nichols and Christi Gallegos. They remind me of a super fan of mine at home. They were able to capture some great pictures and video of when I raced Brodie's car, and they opened their home to Brodie, his brother Jesse, and myself over Easter weekend…Again, I hope all of you continue to sponsor and support Brodie and his team because he well deserves it!
I also want to thank my followers and fans. It is a great feeling to read everyone's comments and questions about the things that I am doing. All of the nice and sincere comments make me want to try and do better for you.
For me, there is a bigger picture…there is a guy who I am no longer able to see or talk on the phone with that wanted me to experience what it's like driving a racecar in Australia. That person is Marshall. I also would like to thank my mom, dad, and sister for their uneasy support. It cannot be simple to just watch your brother/son/friend just go off to another country, and even hear words of "I'm not sure when I'm coming home." Without them I am nothing…
Just recently my dad told me to watch A Knight's Tale. A somewhat funny movie, but has some very influential and guidance points in regard to living your life. I want to live in Australia. It is such a unique and beautiful place to live, not to mention everyone gives a helping hand when needed and genuinely wants to help others. They're just not in it for themselves. My family here at home is the most important thing to me in my life, but like John Thatcher tells his son William before he sent him off with a Knight… "Don't be foolish, William, you just follow your feet. Change your stars and live a better life than I have."
~TJ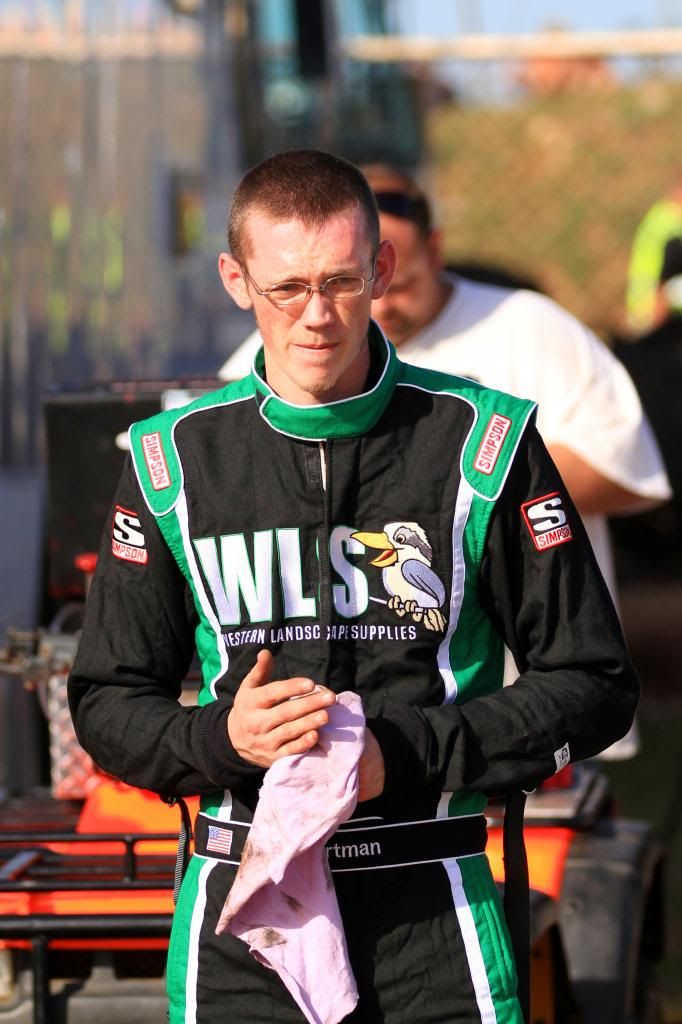 Photo - TJ suited and ready for action Down Under
TJ Hartman Racing PR - Heading North!

Morayfield, QLD Australia - April 14, 2013...


Rain over the past week and this past Saturday morning was cause for cancellation of the final weekend of racing for TJ Hartman's 4 month stay in Australia.  Originally slated to run 5-6 races in December and January for car owner Scott Wilson in his Western Landscape Supplies Q59 Midget, TJ found additional opportunities when he hooked up with car owner Brodie Tulloch and his B&D Racing, Autobarn Browns Plains 410 Sprintcar.  Unfortunately, weather and mechanical issues sidelined the team for much of the extended stay, and the 21 year old Puyallup, WA native will board a flight on Wednesday to return to the States for the first time since early December.


Hartman is optimistic, even with the disappointment of not being able to run the final weekend.  He reflects on the opportunity:  "Of course as a racer you want to be in the car everyday.  But some things are just out of our control and we just look forward.  It's all we can do."


There are many to thank for making the past 4 months possible, and TJ will have the opportunity to sit down and reflect on everything once he returns to Washington.  He will also be figuring out the next step for the 2013 race season and his own team which sits idle at the moment, but ready to go.  "There are just so many people to thank,"  Hartman states in a grateful voice.  "I want to do it properly so I'm going to wait until I get back and sit down to do it right.  I cannot thank Scott, Sid, Brodie, and the sponsors enough for giving me the chance to drive their race cars.  And most of all I want to thank Sid and Lisa Whittaker for giving me a home and a family in Australia.  Sid took a chance on me as a driver and as a friend, and it's something I will always be thankful for.  Also to Brodie, as I have made a new friend who is great to hang out with.  Now, I'm just ready to get on the plane and back to my other family.  It's been a great 4, almost 5 months in Australia, where I have met a lot of great people and had a ton of fun.  I can't wait to come back."

Hartman's flight lands in Seattle on April 17th.  Follow along on twitter at http://www.twitter.com/tjhartman19 or on TJ's Facebook page at http://www.facebook.com/tjhartmanracing for the latest information and to see what's in store for TJ next.


Next scheduled stop - Currency Exchange and learning to drive on the left, er, right, again!

TJ Hartman Racing