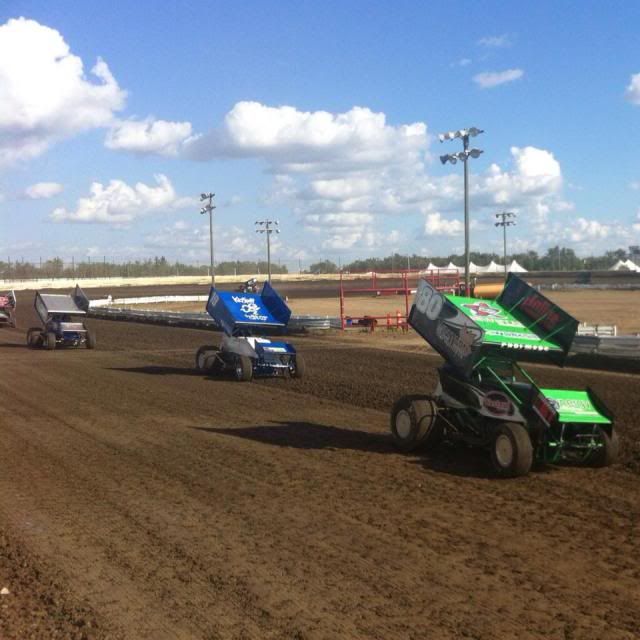 Photo Courtesy of Kidsport Edmonton - Rolling in the track at Castrol Raceway

TJ Hartman Racing PR - The Stars Shine Bright!
Edmonton, AB Canada - July 31, 2013...



TJ Hartman took part in Castrol Raceway's Race of Champions Invitational Wednesday evening, and showed the fans that turned out to see NASCAR stars Dave Blaney, Micheal Waltrip, and Kenny Schrader in their NPP late Models, what winged sprintcars are about.  Overcoming an engine setting issue from earlier in the evening, the Puyallup WA driver powered his way to a 5th place finish when the final checkered flag flew.

Sprintcars would be the undercard for the midweek event, but they quickly proved why the fans get up and cheer for the wild and sometimes crazy drivers.  TJ gets the night started: "The track was pretty greasy still in hot laps, so we never got a chance to feel out the engine real good.  As soon as the heat started, I knew we had a problem.  Roger has been right there with us every time, and I knew he would get it sorted out."

Hartman would finish the heat race where he started - in the 7th position, relegating him to the B-dash where he would start inside the 3rd row.  "The engine was much better in the dash."  says Hartman.  "I was working the track pretty good and managed to finish 2nd.  That gave me a lot of confidence for the rest of the night."

The team could now focus on finding the right setup for the main event.  With a building curb, track officials reworked the tricky surface as competitors studied and made mental notes.  "I was watching it carefully."  states the owner/driver.  "The cushion was pretty big, but I wanted to be able to run it if I needed.  Scotty and I discussed it and we ended up hitting the setup pretty good."

The Custom Automotive Specialties powered #19 Maxim was slated to start the main event out of the 12th position.  When the checkered flag dropped, TJ would carry Kidsport Edmonton across the line in 5th place.  He talks about the race:  "I was just a bit tight at the beginning and that made it tough to pass anyone up high.  I was following (Travis)Rilat up through the traffic.  I saw him make a move around two cars but a yellow caught me wrong.  On the restart I gave it a try and passed a couple more cars.  My car just kept getting better and better for the track.  I'm really happy with how it went."

Coming off a tough weekend at Skagit Speedway, the 21 year old shares his emotions from the night:  "It obviously feels great to make some better decisions in my driving.  I had a lot of time on the drive back up here to think about it, and I'm just glad I could show all of our sponsors that we are better than we showed at Skagit."

TJ makes mention of some off-track details that stood out for him as well.  "I have to thank Ron MacDonnell and Castrol Raceways for putting this event together and allowing me to participate.  Also, to Roger for working hard to get his engine running good and taking the time to work with me.  And Scotty and Lisa and their EBR Motorsports team for helping out and being great friends.  Shelby had to return home but Scotty's daughter Brandie made sure the car was looking good all night long.  It was a lot of fun having Scotty's marketing partners like Kidsport Edmonton, The Decal Shop, and The Powder Station, at the track supporting and cheering us on.  It's always fun to hear what people say the first time they've actually seen a sprintcar in person!"

Next up for Hartman is the Extreme Cup at Castrol Raceway in the EBR Motorsport, Kidsport Edmonton sprinter on August 9th and 10th.  TJ concludes the night: "It was a lot of fun tonight, and I'm looking forward to carrying the momentum forward.  I've driven Scotty and Lisa's car before and we've got it dialed in pretty good.  I can't wait to try and get them another win."

Tentative plans had TJ staying in Edmonton through the World of Outlaws race later in August.  The team will decide whether to firm up those plans as the date draws nearer.  Stay up on the latest information by following along on twitter at http://www.twitter.com/tjhartman19 or on TJ's Facebook page at http://www.facebook.com/tjhartmanracing for the latest news and information, along with race night updates.
 
Next scheduled stop - Seat Swap!

Results - Race of Champions Invitational Castrol Raceway:
7-31-2013 -
Heat: Start-7th, Finish-7th
B-Dash: Start-5th, Finish-2nd
A-Main: Start-12th, Finish-5th



TJ Hartman Racing
www.TJHartmanRacing.com

Photo - TJ getting some advice and help from crew members on gear selection

TJ Hartman Racing PR - A Short Summer Nationals!
Alger, WA - July 28, 2013...



Skagit Speedway's Summer Nationals didn't go quite like TJ had hoped for, when the Puyallup WA driver fell short of making the main event on both nights of the high paying 360 sprintcar main event.  The 21 year old will have plenty of time to reflect on what he missed as he makes the 12 hour tow back to Edmonton Alberta.  All was not lost however, as new partnerships and friendships were formed that helped make the weekend possible for the TJ Hartman Racing #19 Maxim with Kidsport Edmonton. 

43 cars signed in for the event, and Hartman fell into a plethora of drivers who put their qualifying times right on the bubble of the all important heat race invert.  His time would just miss landing him on the front row, and he was unable to make the passes necessary to transfer directly from his 3rd row starting spot into the main event on night one.   TJ gets the weekend started: "There's no excuses - we just were not fast enough.  I had a good qualifying spot and just didn't get it done there, or in the heat race.  We tried some things that I've never tried before and it just didn't work for me."

Falling short of a transfer spot out of the B-main, Hartman's team didn't let it get them down.  "Rod(Perkins) was determined to make the second night better."  Hartman states.  "It's great to have someone that strives to make me better on the track."

The team ended the first night about mid-pack in points, and would slot up 8th in the B-main to vie for one of the coveted 6 spots that would transfer to the finale.  "We made some great calls the second night."  says the owner/driver.  "But it's hard as a driver to feel good about just missing out of the A-main."

Hartman would get a good initial start up to the 4th position.  A spin would negate the move and officials called for a complete restart.  Powering the high side to 5th place, TJ would settle in, but lost a spot a few laps later, and then lost the final transfer position on a late race restart when he couldn't hold off the hard charging Kenny Rutz.  He finishes the night:  "It turned out the way it did, and all I can do is reflect on what we did good, but make sure I learn how to make myself better for next time."

The #19 Maxim would take its final checkered flag of the weekend in the 7th position of the B-main in an event that drew 43 top competitors from California to Alberta.  He has many people to thank for making the weekend possible, and for helping him in the pits.  He starts with his crew.  "Greg Bishop was really nice to have there.  We haven't been able to work together since 2007 when I ran down at Hanford.  It's reassuring to know you can trust the guy checking everything over and making sure everything is working properly.  I always like having Will there too because he can really see what's going on with the track and where the racing lines will be changing.  Between him and Rod, they are a lot of help with that.  I also want to thank Andrew for helping out this weekend.  He's worked with Rod on his car and it was really nice having him come and help out."

TJ makes sure to recognize those who take up the financial slack as well.  "Greg surprised me with a barrel of fuel to go along with what Lisa did.  Our friend Paul helped out with a right rear tire like he always does when he sees me race.  Chaz Dugaw and his family put us up for the weekend, and also arranged some media interviews to go along with a lot of effort he put into getting me a couple of marketing partners.  It was great working with him and providing my team and I some great exposure.  Mike Camacho at Affordable Storage helped tremendously with our expenses this weekend, and John Piazza JR from Piazza Construction picked up our Saturday pit passes." 

"All of the radio interviews were great and I enjoyed it.  I can't wait to work with everyone again in the future.  They all worked hard for me and it will be my job to get their companies and names where they deserve to be.  Next time we will be better for them."  states Hartman.

TJ concludes the weekend: "It was great to be back home around my family and friends.  I have a lot of support from many people right now, and it's just awesome.  I also want to thank Steve Beitler and his staff.  It's always a pleasure to race for them and the fans at Skagit Speedway. I'm looking forward to getting back up to Edmonton and working with Scotty and Lisa and the EBR Motorsports team for the next month.  Lastly, I really have to thank Roger at Custom Automotive Specialties in Edmonton.  We had his engine in the car this weekend and he not only made this weekend possible, he also is right there to give me some great advice about racing.  It's great to have so many people believing in me and giving their time to help me."

Next up for TJ is the Race of Champions Invitational at Edmonton's Castrol Raceways on Wednesday, July 31st.  Stay up on the latest information by following along on twitter at http://www.twitter.com/tjhartman19 or on TJ's Facebook page at http://www.facebook.com/tjhartmanracing for the latest news and information, along with race night updates.
 
Next scheduled stop - Border Check!

Results - Summer Nationals Skagit Speedway:
7-26-2013 -
Qualifying: 23rd
Heat: Start-5th, Finish-5th
B-Main: Start-8th, Finish-11th

7-27-2013 -
B-Main: Start-8th, Finish-7th

TJ Hartman Racing
www.TJHartmanRacing.com


Media:

Skagit Radio Sports - http://www.skagitradiosports.com/

Mike Inthemorning at KAPS COUNTRY 660AM / 102.1FM http://www.kapsradio.com/

Brad Cash at KISM 92.9FM Bellingham http://kism.com/

Mark Scholten at KPUG 1170AM Bellingham http://kpug1170.com/

Summer Nationals Marketing:
Affordable Storage in Burlington - http://affordablestoragenw.com/
Piazza Construction - http://www.piazzaconst.com/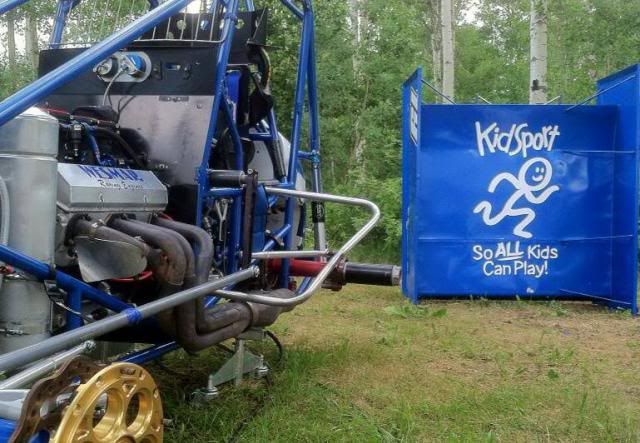 Photo - Maintenance Day on the Kidsport Edmonton #19

TJ Hartman Racing - Update: No Gold in Edmonton!
Edmonton, AB Canada - July 21, 2013...



The two day Gold Cup event in Edmonton this weekend ended with a rainbow - not what the 36 sprintcar teams at Castrol Raceways were hoping for.  TJ teamed up with Kidsport Edmonton and the EBR Motorsports crew to take a shot at glory in his own #19 Maxim chassis, but Mother Nature came calling Saturday night, and washed out the finale, and any chance the racers had at finding gold.

The format for one of Canada's most prestigious 360 sprintcar events warrants the teams to give it their all every time they hit the track.  With points for qualifying, heat races, and Fridays main event being added to the same program on Saturday, TJ found himself in a slight hole after the first night of competition.  "I was worried about drawing a 64 the first night."  Hartman states. "I was one of the last cars to go out, but my laps were very good for how the track was, and the times were faster than the cars around me.  But I knew it wasn't going to be good enough to make the dash later on."

The team changed a few things in preparation for the heat race, and starting inside the second row, TJ rode the 3rd position until the final lap, when he almost made a costly mistake.  "I spun out and fell back to 5th." TJ states with relief in his voice.  "I nearly cost us big.  I should have been smarter and tried running a different line after the checkered flag, not during the race.  I wasn't feeling any pressure and wasn't going to gain anything, and I could have cost my team and supporters a spot in the A-main event if I had lost anymore positions than that."


With his qualifying time lining him up 13th to start the feature, TJ set about trying to find a rhythm.  He talks about the race: "I ran around the top 10 for most of the race.  There was a lot of reds and yellows and it was tough to really get a feel for the car and know where you're at for the end of the race when you're only getting a couple green laps at a time.  During an open red I had Scotty make a few changes on the car.  It helped, but I was disappointed with myself because my driving was not at the level it should have been.  I missed my marks and it was costing me valuable track position."

TJ would move forward a few positions at the checkered flag, and end night one with an idea of what he needed to do on night two in order to improve.  "8th place overall made it an OK night." he states.  "It was great to see a few fans stop by and ask where I was from.  Shelby said people were cheering loud during my qualifying run, and several people came over afterward and said I looked great.  I was ready to try and improve on the second night though."

The team unloaded for day 2 and set about preparing for the final.  The blue skies quickly changed however, and officials scrambled to figure out a solution to hurry the program along.  With qualifying scrapped, the heat races would line up based on the previous nights points.  But before any racing could get underway, the skies opened, and the 2013 Gold Cup at Edmonton's Castrol Raceway was a washout.  

TJ concludes the weekend: "I told Mother Nature that I understand she has to do what she does, but I needed some more track time to improve my chances at getting towards the front.  Things happen for a reason and so we will just move on and be ready for the next race.  I want to thank Kidsport Edmonton, EBR Motorsports, and all of my sponsors for their continued support.  I also want to give a special thanks to Lisa's son Matt for lending a hand whenever I needed it.  It was great to have Shelby here too.  She did everything from cleaning the trailer to checking the air pressures.  She was a huge help.  She's the only thing I really like from Dairy Queen!"

The team is looking at a couple of different options for the upcoming weekend.  They had hoped to return to the US to race at Skagit Speedway's Summer Nationals, but plans are unclear at the time of this writing.  Stay up on the latest information by following along on twitter at http://www.twitter.com/tjhartman19 or on TJ's Facebook page at http://www.facebook.com/tjhartmanracing for the latest news and information, along with race night updates.
 
Next scheduled stop - Cleaning the Sluice Box!

Results - Gold Cup Castrol Raceway:
7-19-2013 -
Qualifying: 13th
Heat: Start-3rd, Finish-5th
A-Main: Start-13th, Finish-8th

7-20-2013 -
Rained Out

TJ Hartman Racing
www.TJHartmanRacing.com