TJ Hartman Racing PR - Staying Connected!
Edmonton, AB Canada - October 15, 2013...

Since 2007, TJ has relied upon Rod End Supply to keep his suspension connected with their rod ends, suspension, and steering components.  TJ Hartman Racing is proud to be associated with a company like Rod End Supply, and the care they not only put into their products, but into their customers as well.  In 2014, for the 8th straight season, TJ Hartman Racing will once again partner with the Olathe, KS manufacturer and the great products they produce.

In TJ's words: "Martia and Rod End Supply have been awesome to work with, and very supportive of my racing program since I began in 2007.  They have been with me the whole way, and I'm honored to have them as a marketing partner again in 2014, and as a friend."

Visit Rod End Supply on their web site at: http://www.rodendsupply.com/ or contact them by phone toll free at; 1-800-284-2902

For the latest news and information about TJ Hartman Racing, follow along on twitter at http://www.twitter.com/tjhartman19 or on TJ's Facebook page at http://www.facebook.com/tjhartmanracing
 
TJ Hartman Racing
www.TJHartmanRacing.com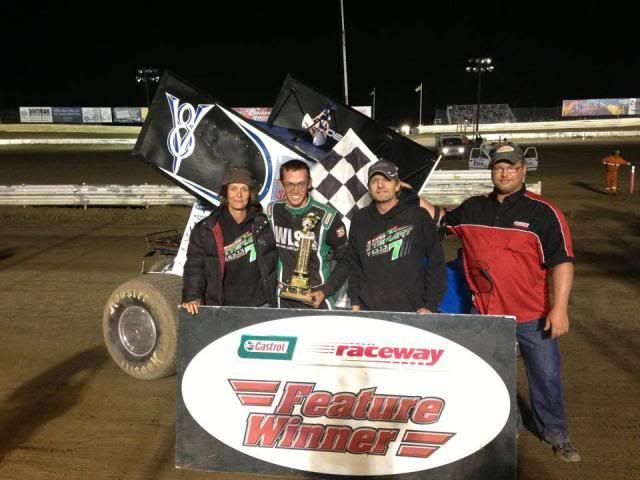 Photo Credit Castrol Raceways Media - TJ finds victory lane with support from EBR Motorsports at Castrol Raceway in Edmonton, AB

TJ Hartman Racing PR - On A Rail!
Edmonton, AB Canada - September 14, 2013...



TJ Hartman and EBR Motorsports teamed up to find victory lane in the season finale at Edmonton's Castrol Raceways.  The Puyallup WA native put the wind in the sails of his Custom Automotive Specialties powered Maxim chassis at the drop of the green flag and never looked back, leading every lap en-route to the victory.   

With his recent decision to move to Alberta, and Castrol Raceways re-scheduling of the 360 powered winged sprintcars for the season finale, TJ was fortunate to have the chance to get another race in the books.   He starts the weekend: "Scotty and I had a game plan heading into the night, and all of the hard work and research we did paid off.  We are keeping these notes for the future that is for sure!"

Representing Kidsport Edmonton, TJ would start his heat race on the outside of the front row, and made quick work of getting to the lead.  "We were pretty dominate in the heat race."  he states.  "We were trying something different, and it gave us a chance to find out if it was going to work for me.  The car was great and the engine was running perfect."

The lineup for the main event placed the team on the pole for the start, where TJ would jump out to a commanding lead.  As the checkered flag flew, it would mark TJ's 3rd win of the 2013 season, in his 3rd division of open wheel cars.  "I feel that I learned and accomplished a lot on Saturday by pushing myself with what we did with the car."  says the confident driver.  "We had a car that was fast tonight, and it was on a rail.  The adjustment we made for the main was perfect.  I have to give a huge thanks, because this weekend would not have been possible without Jimmy Albert and Roger from Custom Automotive Specialties stepping up and letting us use their motor once again."

With the season concluded in Edmonton, TJ has plenty to keep him busy.  He explains:  "Just because race season is over doesn't mean we're going to stop.  We have a lot to do for 2014, and we will be ready.  I cannot wait to get started this Winter with all of the projects Scotty and I are focused on.  I'm so fortunate to have family and friends that are so interested in helping pursue what I want to do."

TJ concludes the weekend: "Special thanks to the Ellis Family for loaning us their trailer, and I really need to thank everyone who called, sent messages, and commented on our social media sites.  It's a great feeling to be involved with all of my great fans.  Really big shout out to the EBR Motorsports sponsors, as well as all of mine for supporting us for so many years.  I'm looking forward to working with them, and many more, next year."

As if this writing, TJ is set to focus on the 2014 season, but is keeping his options open if something should come up for the remainder of this year.  Stay up on the latest information by following along on twitter at http://www.twitter.com/tjhartman19 or on TJ's Facebook page at http://www.facebook.com/tjhartmanracing Be sure to take the time to view http://www.tjhartmanracing.com for a glimpse into past and present news, pictures, and season results.
 
Next scheduled stop - Winterizing!

Results - Season Finale Castrol Raceways:
9-14-2013 -
Qualifying: Pill Draw
Heat: Start-2nd, Finish-1st
A-Main: Start-1st, Finish-1st



TJ Hartman Racing
www.TJHartmanRacing.com

Photo Credit Castrol Raceways Media - EBR Motorsports owners Lisa Davies & Scotty Evans with TJ on Prelim Night of the Extreme Cup

TJ Hartman Racing PR - A Weekend of Extremes!
Edmonton, AB Canada - August 11, 2013...



Over the past few months, the EBR Motorsports team focused a lot of time and energy into competing at Castrol Raceways Extreme Cup - the two day event scheduled over this past weekend in Edmonton.  With driver TJ Hartman picked to pilot the CCR Motorsports powered Maxim, the team knew they could be a contender for winning the annual event.  Friday nights preliminary run confirmed that when the Puyallup WA shoe ignored a foot injury to finish 3rd in the main event, and piled up a fair amount of points for the Saturday finale in the process.  Unfortunately, the team never got the chance to reach the track on Saturday, having been involved in a scary accident that destroyed the teams trailer.  Fortunately, the damage was limited to the equipment, and everyone walked away safe. 

Car count for the event filled 4 heats, and with points at a premium, TJ put the Kidsport Edmonton, Powder Station, CCR Motorsports, Decal Shop, and Lisa Ledgers Maxim solidly in the field with a 10th place qualifying effort.   TJ gets the weekend started: "The car felt really good in hot laps and qualifying.  I took a clod of mud to the side panels that caved in my seat and smashed my foot against the torque tube.  It hung the throttle open and all I could think about was getting the engine shut down and getting out of the car to check my leg."

After the team repaired the damage to the car and attended to TJ's injury, the focus turned to the heat race where the V8 would start 4th and finish 3rd - transferring straight into the main event.  They would need some help if they were to make the 6 car dash, and that help came when several of the faster timing cars did not make it out of their respective heat races.  Hartman would draw a 3 in the dash invert, but couldn't capitalize on the good fortune.  "There wasn't a lot to get a hold of on the bottom."  he states.  "I had to use a slider on the last lap in the heat race, and fell back two spots on the start of the dash and then just kind of got in line up top.  I knew the track would come to us later."

Lining up inside of the 3rd row for the start of Friday's main event, TJ slipped back a few spots on the start before he got the CCR Motorsports powered mount rolling.  "I just tried to be patient in the beginning, and then started rolling the bottom."  says the normally calm driver.  "We passed a bunch of cars and I was up to second.  It kind of faded at the end, but honestly it felt really good because I knew we were strong enough to have a good shot on Saturday."

A third place finish gave the team even better odds in the points structure going into the final night.  He finishes night 1:  "I was in quite a bit of pain, but it didn't bother me too much in the car.  Lisa(car owner - Davies) took good care of me, and kept me off my foot so I could rest.  I was really looking forward to getting this team another win."

The EBR Motorsports crew prepped the car for the final night, but unfortunately never got the chance to reap the rewards for their efforts.  An incident on the way to the track, sent the trailer flipping with the race car and all the spare parts and tools inside.  When the dust settled, the team was left to relish in the fact that while everyone was shaken, nobody was injured. 

TJ concludes the weekend: "Of course it's disappointing.  But the important part is we're all safe.  I can't thank Scotty and Lisa enough for giving me this opportunity, and Chevy Goodhope for building a strong engine.  Cory, Cody, Jordan, and everyone who helps on the crew and all of the sponsors that keep us out there - thank you.  I need to also give thanks to everyone who stopped or called to see if we were OK or needed anything.  Racing is a great community in times like these."

Hartman was slated to run with the World of Outlaws when they visit Edmonton on August 23rd and 24th, but the team will need to take inventory of the current situation before finalizing those plans.  Stay up on the latest information by following along on twitter at http://www.twitter.com/tjhartman19 or on TJ's Facebook page at http://www.facebook.com/tjhartmanracing for the latest news and information, along with race night updates.
 
Next scheduled stop - Searching for the BBQ!

Results - Extreme Cup Castrol Raceways:
8-9-2013 -
Qualifying: 10th
Heat: Start-4th, Finish-3rd
Dash: Start-3rd, Finish-5th
A-Main: Start-5th, Finish-3rd

8-10-2013 -
DNA

TJ Hartman Racing
www.TJHartmanRacing.com