Details

Created on Monday, 30 December 2013 13:04
Written by TJ Hartman PR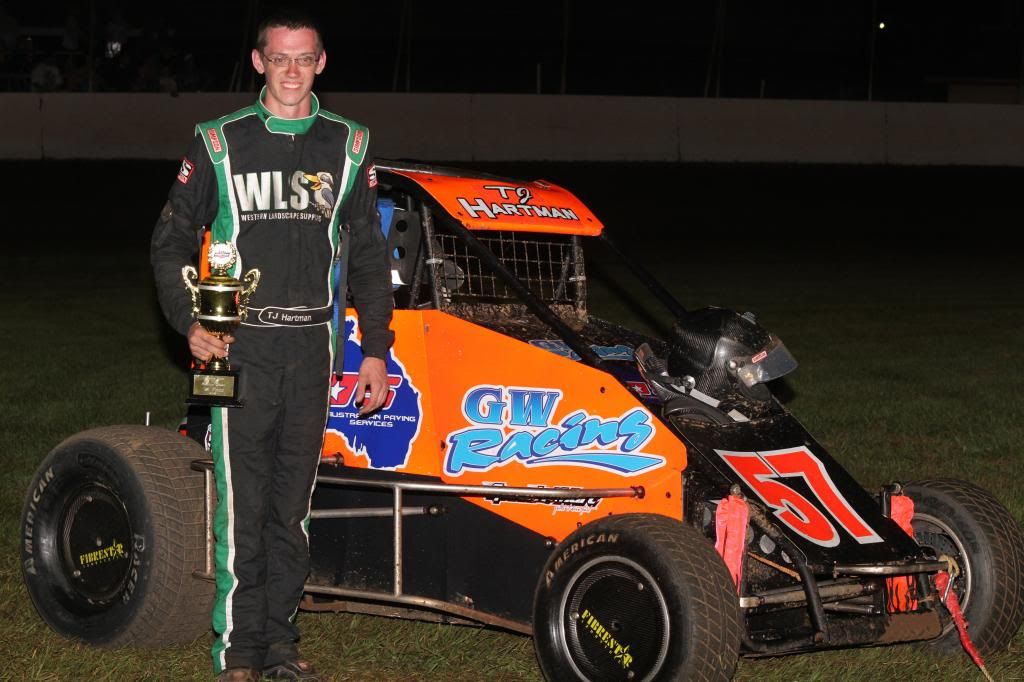 Photo - TJ finds Victory Lane at Grafton Speedway on New Years Day aboard Sid Whittakers Ti Bolts and Race Parts Q57 midget

TJ Hartman Racing PR - Season of Change!
Edmonton, AB Canada - December 30, 2013...



2013 would be dubbed the Season of Change for TJ Hartman as he traveled from one end of the World to the other in pursuit of a career in open wheel racing.  The effort paid dividends, as Hartman found victory lane for 3 of the 5 car owners, including himself.  Sweetening the pot, twice he stood atop the podium in forms of cars he had never driven, at race tracks he had never seen before.  

The success didn't come without adjustment however, as trials and tribulations forced the Puyallup WA native to make decisions on the fly.  What began as a 5 week stint in Queensland and New South Wales driving midgets for car owners Scott Wilson and Sid Whittaker, turned into a 4 month stay when car owner Brodie Tulloch made his 410 winged sprintcar available for Hartman to finish out the season in the Southern Hemisphere.  Weather hampered much of the duos effort, as did the extended time in Australia, putting a damper on any plans to run a full schedule at home in local ASCS competition.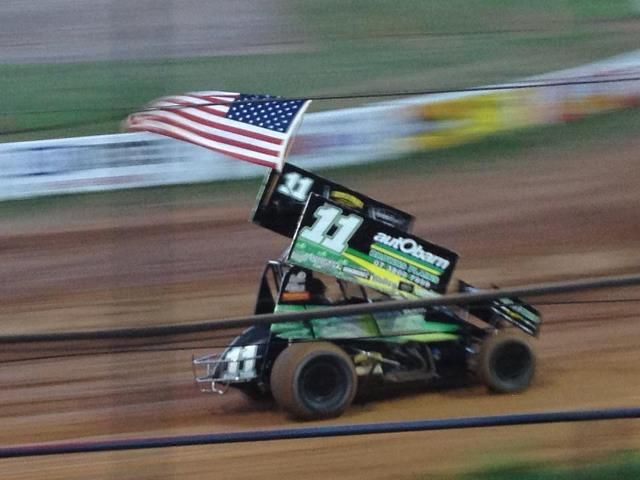 Photo - TJ flying the home colors at Archerfield Speedway in Brisbane, QLD in Brodie Tulloch's autObarn sponsored 410 sprintcar


Returning home with no certain plans for the remainder of the year, Hartman landed on American soil, but soon made the 16 hour drive North and East to Edmonton, Alberta Canada where he teamed up with EBR Motorsports and car owners Scotty Evans and Lisa Davies in their Kidsport Edmonton partnered Sportsman Sprint.  The revitalized EBR Motorsports set several goals for the team, including raising funds and awareness for Kidsport Edmonton, and challenging for Rookie of the Year in Castrol's Xtreme Sprint Cars series with 53 year old driver Ken Lett.  Hartman would fill in on off dates for the point series, and helped the team find it's first ever victory by winning at Central Alberta Raceways in Rimbey, Alberta. 

Photo - TJ and EBR Motorsports putting Kidsport Edmonton in Victory Lane

Set to drive the EBR mount in Castrol Raceways Xtreme Cup, a third place finish on the prelim night had the team excited as they prepared for the final night.  Unfortunately, while en-route to the track, they suffered a serious accident, all but destroying the EBR team hauler and contents inside.  It was a disappointment, but the team was grateful there were no injuries.

Photo - The aftermath of the crash for EBR Motorsports

Refusing to quit, and with the support of friends and family, the EBR team borrowed a trailer, tools, and the parts necessary for Lett to finish out his rookie year campaign.  Unfortunately, with just a few laps remaining in the final race of the Xtreme Sprint Car Series, the engine let go and cost Lett the ROTY award.  It was a disappointing setback to the team after leading the rookie points all season, and the trickle down effect meant that the remaining races scheduled for TJ in the V8 car had to be cancelled.

Still hungry to compete, the team turned it's attention to Hartman's own program, and set it's sights on finishing out the year strong in ASCS 360 competition at Castrol Raceways final race of the year.  With Custom Automotive Specialties engine power under the hood, and sporting EBR Motorsports colors with Kidsport Edmonton, TJ would finish out the year just as it began - parked in victory lane.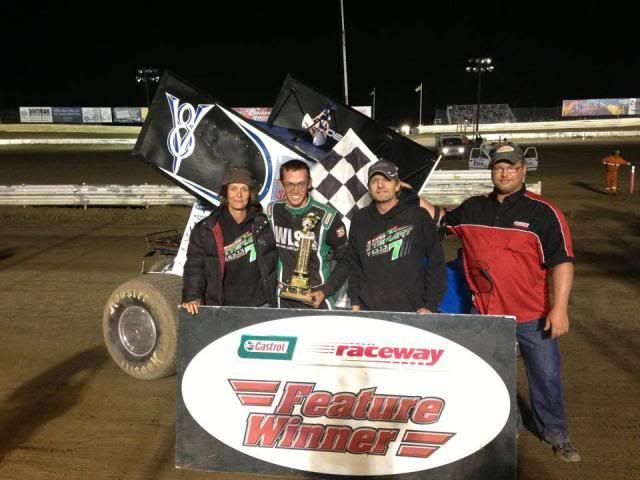 Photo - TJ, Scotty, & Lisa atop the podium with the ASCS 360 sprintcar at Castrol Raceway

While it may have looked easy, the adversity overcame to accomplish winning multiple races in 3 countries in 3 separate divisions, is the real measure of achievement.  Ringing in the New Year with a win in Grafton New South Wales, and finishing out the season a little farther North with a win in Edmonton Alberta, TJ showed he's not afraid of a challenge, and eager to adapt to change.  It always helps to be aligned with strong and dedicated people, and that's just what he found with car owners Scott Wilson, Sid Whittaker, Brodie Tulloch, Scotty Evans & Lisa Davies, and himself.  If 2013 is any indication, 2014 looks to be even better.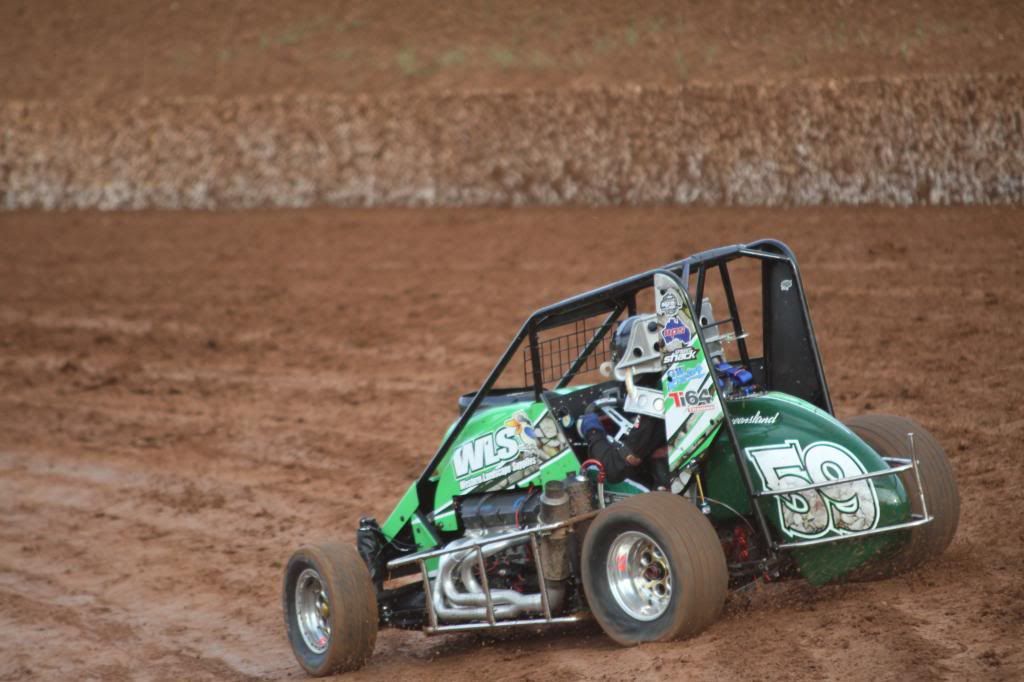 Photo - TJ makes his midget debut at Archerfield Speedway aboard Scott Wilson's Western Landscape Supplies Q59

2013 Season Stats - 

Classes: 4 (Midget, 410 winged sprintcar, ASCS360 winged sprintcar, 360 winged limited sprint)
Starts: 12
A-Feature Starts: 10
Wins: Grafton Speedway(midget), Central Alberta Raceway(sportsman sprint), Castrol Raceways(ASCS 360)
Top 5's: 5
Continents: 2 (North America, Australia)
Countries: 3 (USA, Australia, Canada)
States/Provinces: 5 (Washington, Montana, Queensland, New South Wales, Alberta)
Miles Traveled: 20,000+
In TJ's words: "I am very thankful to the people who gave me the opportunities this year.  We're working hard to keep the momentum and make 2014 a successful year as well.  Teaming up with sponsors like Harley-Davidson® of Edmonton will make next season very exciting for everyone!
Be sure to check out the season recap video put together to show our appreciation to all of the sponsors and friends who make it possible to have a shot at the stars.  From TJ Hartman Racing - thank you and we wish you all a Happy & Prosperous New Year!  2013 Season Recap Video
Stay up to date on what's going on with TJ and the EBR Motorsports teams by following along on twitter at @tjhartman19, on TJ's web site at tjhartmanracing.com, or on the teams Facebook pages; Facebook.com/tjhartmanracing and Facebook.com/ebrmotorsportsVIII
TJ Hartman Racing
www.TJHartmanRacing.com
Details

Created on Monday, 25 November 2013 11:34
Written by TJ Hartman PR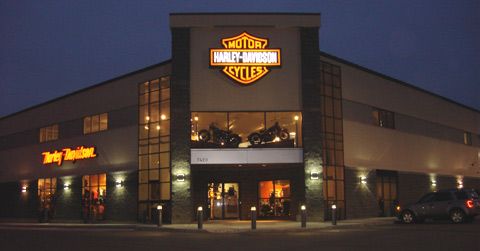 Photo - The Flagship of Harley-Davidson® of Edmonton

TJ Hartman Racing PR - Heating Up in Alberta!
Edmonton, AB Canada - November 25, 2013...

TJ Hartman Racing takes the first big step into 2014 by announcing a marketing agreement with Harley-Davidson® of Edmonton.  Forming a partnership that puts the Edmonton family owned business as a primary sponsor on the family owned #19 sprintcar that TJ drives in ASCS and other series competition, makes it a win-win for the pairing.  The Kent Family knows the value of hard work and dedication - the same principles TJ has applied growing up and since coming into the sport.

This will be the first major marketing program that TJ has undertaken, and it's a challenge he looks forward to.  He lends his thoughts to the program: "I am really pleased that Harley-Davidson® of Edmonton and the Kent Family will be supporting us in 2014.  I know from speaking with Koreen, Bobby, and Kevin, that they are very excited for the service I am offering them, and I know they will be very happy with everything we have planned."

In a unique arrangement, TJ has been able to apply his knowledge of business, and the sport, into a direct benefit for Harley-Davidson® of Edmonton.  It's a concept born through his relationship and the memory of the person(Marshall Schlenz) who brought him into the sport, and blossomed through a new friendship formed with Edmonton businesspersons and racers - Scotty Evans and Lisa Davies.

"Scotty and Lisa were so proud of the accomplishment I made in gaining a big supporter for 2014." states TJ as he reflects on sharing the news. "Scotty and I have worked very hard over the past year and a half to make an opportunity like this happen.  His advice and guidance reminds me of Marshall, and I know all of us can't wait to get to the first race next year!"

Harley-Davidson® of Edmonton began operations more than 30 years ago when Ken and Alma Kent began what has become a true family operation.  Their son Bobby is now the General Manager, and daughter Koreen is teamed up as well to help the business excel.

"We are very much looking forward to partnering with TJ Hartman this upcoming season."  states Dealer Principal/A.G.M. Koreen Kent. "He is very knowledgeable in web design and marketing, and we feel very confident that this will be a successful partnership for us both.  Racing has long been a very large part of our business, as our very own Ken Kent, raced Harley's for almost 4 decades in Canada and the U.S.  We enjoy and appreciate a true competitive spirit and we know that TJ will bring that energy into his work when he recreates our new website!"    

Visit Harley-Davidson® of Edmonton on their web site at: www.hdedmonton.com or contact them by phone at: 780-451-7857 You can also visit their Facebook page at: www.facebook.com/hd.edmonton.com to see all of the latest products and featured items for sale.

For the latest news and information about TJ Hartman Racing, follow along on twitter at http://www.twitter.com/tjhartman19 or on TJ's Facebook page at http://www.facebook.com/tjhartmanracing

TJ Hartman Racing and Harley-Davidson® of Edmonton - You Can't Beat a Family Style Business!
 
TJ Hartman Racing with Harley-Davidson® of Edmonton
www.TJHartmanRacing.com
Details

Created on Tuesday, 19 November 2013 11:34
Written by TJ Hartman PR

Photo - Astro Titanium made in the USA

TJ Hartman Racing PR - High Performance Fasteners!
Edmonton, AB Canada - November 19, 2013...

When it comes to the pieces that hold everything together, TJ Hartman Racing relies upon Astro Titanium.  Dave and his crew at Astro Titanium have been designing and manufacturing titanium bolts and fasteners since 1998.  TJ has been using their products since 2007, and relies upon the crew at Astro to give him the highest quality titanium parts in the industry.  Going into 2014, TJ and Astro Titanium will once again be striving to lead the way, together.        

In TJ's words: "Astro Titanium's service to the sprintcar and racing industry is second to none.  Dave is an outstanding guy, and the people he has working for him are very knowledgeable.  They have the ability to provide you anything you need, from nuts and bolts, to washers and custom projects.  All racers like to save weight, so make sure you have Astro Titanium machining your next order!"

Visit Astro Titanium on their web site at: www.astrotitanium.com or contact them by phone at: 1-541-935-2345

For the latest news and information about TJ Hartman Racing, follow along on twitter at http://www.twitter.com/tjhartman19 or on TJ's Facebook page at http://www.facebook.com/tjhartmanracing
 
TJ Hartman Racing
www.TJHartmanRacing.com